For the film OST, see Tokyo Ghoul (film soundtrack).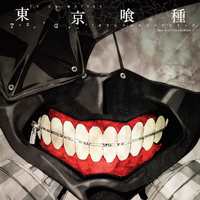 Tokyo Ghoul Original Soundtrack (「東京喰種(トーキョーグール)」オリジナルサウンドトラック, "Tōkyō Kushu (Tōkyō Gūru)" Orijinaru Saundotorakku) is the soundtrack for the Tokyo Ghoul anime produced by Studio Pierrot based on the manga of the same name. It features music composed by Yutaka Yamada.
Tracklist
Disc 1
TG Symphonie (TG Symphony)
Das erste Kapitel (The First Chapter)
im dunkeln (in the dark)
Donnerschlag (Thunderclap)
Transplantation
Taube (Dove)
Symptom
Tausendfüßer (Centipede)
Kriminalbeamte (Investigator)
Unordnung (Disarray)
Augenbinde (Eyepatch)
Grau (Gray)
Schmetterling (Butterfly)
Nachhall (Reverberation)
Mond (Moon)
Verzerrte Welt (Distorted World)
Schöpfer (Creator)
Regenbogen (Rainbow)
Kaninchen (Rabbit)
Tanz (Dance)
Krieg (War)
Mit (With)
Küken (Chick)
Auferstehung (Resurrection)
Licht und Schatten (Light and Shadow)
Das zweite Kapitel (The Second Chapter)
Disc 2
GLASSY SKY - Episode 14 & Episode 20 insert song
Dawn
Sorrow
AJITO
Plan A
Area
Scapegote
AOGIRI
AMON
Wanderers - Episode 16 insert song
AOZORA
FUKUROU (Owl)
Mistake
Plan B
Orphan
Father
Gone
Alone - Episode 19 insert song
Dusk
Faded Light
With
Colour My World - Episode 20 insert song
ON MY OWN - Episode 13 insert song
unravel (TV edit) - TV Anime "Tokyo Ghoul" Opening Theme
The Saints (TV edit) (聖者たち (TV edit), Seijatachi (TV edit)) - TV Anime "Tokyo Ghoul" Ending Theme
Munou (TV edit) (無能 (TV edit)) - TV Anime "Tokyo Ghoul √A" Opening Theme
Kisetsu wa Tsugitsugi Shindeiku (TV edit) (季節は次々死んでいく (TV edit)) - TV Anime "Tokyo Ghoul √A" Ending Theme
Videos
External links
Community content is available under
CC-BY-SA
unless otherwise noted.