This article is about the book. For other uses, see King (disambiguation).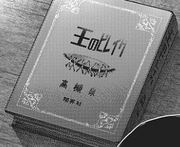 King Bileygr (王のビレイグ, Ō no Bireigu) is the tenth[1] and final[2] work of Sen Takatsuki.
The story is a heroic drama, and centers around a one-eyed ghoul simply known as "Nameless." He is a noble protagonist, and leads a rebellion to liberate ghouls from the oppression they have suffered. The villains of the story are a corrupt human organization, secretly cooperating with ghouls to control the world.[1]
Characters
Edit
Nameless (名無き, Nanaki): The protagonist of the story, a heroic one-eyed ghoul.
Publication
Edit
The contents of the novel are highly-controversial, and required that Shunji Shiono keep the details under wraps until the last possible moment.[3] Eto held a press conference to announce the details of her novel, also revealing herself to be a ghoul to the public.[2] Once information had been released to the press, and wide distribution already arranged, the CCG was helpless to prevent the novel from reaching the general public.[3]
Shiono would later be killed for his part in publishing the work.[3]
Societal Influence
Edit
The novel triggered widespread chaos, with the public alternately condemning or celebrating the work. The CCG suffered considerable public criticism, with their hotlines overwhelmed with calls from the public and protests being held outside their headquarters. The contents of the novel even caused unrest among the employees of the CCG. The sympathetic viewpoint and glimpse into the oppression suffered by ghouls resulted in the formation of ghouls' rights organizations. Many of these human groups were disbanded for violating the Ghoul Countermeasures Law, of the few surviving was the Great Wheel Act.
The novel has also caused a stir within the ghoul community, with many reading it. Ayato Kirishima speculated that the novel is intended to inspire hope, and cause ghouls to long for the appearance of the One-Eyed King to make the rebellion reality.[4] Haise Sasaki postulated that the protagonist of the novel is envisioned to be a fictional version of the King.[1]
Interpretations
Edit
The novel conceals numerous hidden messages related to Eto's overall goal, and intended for her audience to discover.[1]
Nameless, the protagonist of the novel, is a representation of the One-Eyed King.
The organization that serves as the novel's antagonist bears a striking resemblance to the Washuu Clan.
The title is a reference to Odin, the one-eyed ruler of the Norse gods. He is frequently associated with the tarot card The Hanged Man.
The title can also be translated as "The King's Bileygr."
References
Edit
Community content is available under
CC-BY-SA
unless otherwise noted.